After a morning chock-full of academic seminars, my classmates and I were all ready for a break that afternoon. Cumberland Lodge provided us another fantastic meal for lunch (seriously, we were ridiculously well fed while we were there), and the lady at the reception desk was kind enough to call us a black cab.
Originally, we thought we might make the three-mile walk through the park to Windsor Castle to see some more of the scenery, but as we only had a three hour break, we realized that a walk that long might cut significantly into our time. Also, it was pouring. The cab got us there in ten minutes and, though it stayed overcast and slightly damp, the rain lightened up right as we got out.
For a Saturday, Windsor Castle was not too busy at all with visitors – but we're also in the down period between the end of the summer tourist season and when things pick up again at Christmas. Regardless, it was nice to have a bit of space to stroll around at our own pace, and to not have to battle with too many random people in the forefront of our pictures.
The castle is laid out in a very interesting way, and the path took us through the outer fortress and then around the perimeter for a while before we entered. The castle is up on a bit of a hill, with the pretty little town of Windsor and the English countryside stretching out around it, so the walk gave us some wonderful views of the valley below.
There were these amazing and colorful gardens surrounding the castle that were sort of jungley – I loved them! They were lush and thriving from all the rainfall, and almost overflowing their beds.
A couple of us remarked that the gardens reminded us of something from a Dr. Seuss book, and then had fun trying to explain Dr. Seuss to our Belgian friend who had never heard of him. I unhelpfully tried to sum it up with, "You know… Green Eggs and Ham!" which I realize now makes no sense without context, but eventually Leo pulled up a photo of The Lorax on his phone and we sort of got our point across.
Eventually we entered the castle – I don't have any of my own pictures of the interior, as no cameras were allowed, but it was absolutely breathtaking. Aside from a brief foray through a display of Queen Mary's gargantuan dollhouse (too creepy – I just kept thinking of the Are You Afraid of the Dark? episode where kids get sucked inside the dollhouse and trapped), I could have spent days wandering around in that place.
The rooms were a hundred times grander than anything I saw in Kensington Palace. Grandeur does not necessarily equal beauty, but believe me, these were beautiful, too. The cathedral ceilings towered above us, and every chamber was intricately detailed with meaningful and historical features. A few of us thought that it was reminiscent of the palace of Versailles, but somehow softer and more welcoming.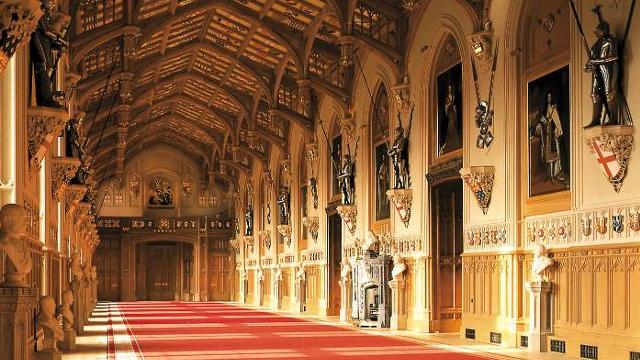 I loved wandering through the long gallery which was inlaid with thousands of shields and crests (can you see them up on the ceiling?), each representing an individual member of royalty, aristocracy, or military and dating back hundreds of years. The imposing chamber displaying suits of armor and weaponry, which might have seemed dark and heavy with its red velvet drapes, was brightened by a beautiful skylight overhead that filtered in the soft gray light from outside.
Finally, there was a lovely exhibit of artwork done solely by members of the royal family, dating back to Queen Victoria and even earlier. Biggest shocker of the day: who knew Prince Charles was an incredible watercolor landscape artist? Seriously, Bob Ross would be impressed with this guy!
Windsor Castle was definitely a case where a picture would be worth a thousand words. It's hard to describe just why it was so lovely and striking, but I really could have circled back through ten more times. However, we all headed back out into the drizzle to conclude our visit.
This is a great representation of how international our program is. From left to right, we're from France, Belgium, Australia, England, America (me), Germany (that's Anna), and India.
We took our time walking back the other way around the castle. The sun was starting to fight its way through the clouds in places, and the light was really neat.
Finally, even the castle guards headed home, so we figured it was time to take our leave as well.
We walked back down the hill into the village of Windsor, where I finally found a coffee shop and grabbed a cappuccino while we waited for our cab. I also gazed longingly down the street at the Windsor Christmas market, which we didn't have time to check out.
Soon enough our taxi arrived and we piled back in to make the return trip to Cumberland Lodge. The rest of our day there was spent in more seminars, followed by a delicious dinner, oh wait another seminar after that, and finally a little down time in the bar and basement, where two fabulous things happened: I had a pint of London porter and I learned how to play snooker. It's not that different from pool but it sure is fun to say.
The next morning, Sunday, was bright and cold. Anna and I woke up early and got out of our beds just long enough to boil water in the tiny electric kettle in our room, before crawling back under the covers and chatting while we drank our tea.
We attended our first seminar of the day, and then some of us elected to attend the morning service at the Royal Chapel of All Saints. This is actually where The Queen attends church most weeks, although she was back in London on this particular Sunday to lead the memorial for Remembrance Day. However, because there was still a chance she would be there, we were briefed on how to behave and address her (apparently she enjoys meeting visiting students and would have likely come over to be introduced to us after!). It would have been really cool to meet The Queen, but is probably for the best that I didn't as I was wearing jeans.
I really enjoyed the service. I was expecting it to be very rigid and formal, seeing as it's steeped in tradition and the royal family is often in attendance, but the pastor was funny and conversational and gave a really kind welcome to us visiting students at the beginning. They also had a young boys choir which reminded me so much of Les Choristes – there was even one little boy who looked like Jean-Baptiste with Justin Bieber hair, who caught my eye and laughed at me when we all accidentally stood up at the wrong time.
And then, in honor of Remembrance Day and those who have died in war, the choir sang a hymnified version of the poem "Do Not Stand at My Grave and Weep" by Mary Elizabeth Frye. It's a very beautiful and haunting poem as is, but I had never heard it sung before. Whoa. Guess who got all teary in the royal chapel? Yup, that happened. Click here to listen to a version of the song I found on YouTube (I think the soloist we heard was actually even better than that guy, but it still gets the point across). Ahh! It makes me want to cry again. I'm such a dork.
After the service, we returned to Cumberland Lodge and had a bit of time to walk around outside and get our first sun-soaked views of the place (finally, no rain!).
The entrance road approaches the back of the lodge, so we walked around to the front to get the full brochure-worthy picture of it.
Anna and I looked at it for a minute, noticed all the little windows of the bedrooms, thought about our own view… and suddenly realized where our room was:
Our big, comfy room was the only one in the main tower, and stretched almost twice as wide and twice as deep as the rest of them. Oops. We decided not to point this out to anyone else but it was kind of fun to realize where we'd been sleeping!
Here we are trying to point at our room and not doing so well:
We rejoined a few of our classmates and walked down a little side path to an open meadow that looked out over the rolling green hills.
There was an old greenhouse and a few garden beds (empty at this time of year), as well as plenty of big logs and stumps to play on (this is Lola's photo).
Finally, we took a last look at the English countryside, tried to breathe as much fresh air into our lungs as we could, and boarded the bus to head back to the big city just as dusk was starting to fall.
I already miss being surrounded by green and seeing the stars at night. I spent so many years thinking I was totally a city person that I never realized how much I need the country! I love London, but I need trees and mountains and water to balance it out. Until next time, Mother Nature!