Happy Thursday! I have an exciting surprise for you today. We're switching things up 'round these parts, and today I'm going to sit back, relax, and let the lovely Lauren take over the blog! Lauren's blog is great place to visit for amazing international recipes or creative crafty stuff, and she's here to share an example of the latter today.
Now, we all know I love Pinterest. I have an entire pinboard devoted to crafty DIY projects that I'd love to attempt… but how many have I actually done? One. The cool thing about Lauren is that she actually does these crafty DIY projects! Here's a super cool one she made recently – since I love books and reading, too, I was pumped when she offered to share! Enjoy!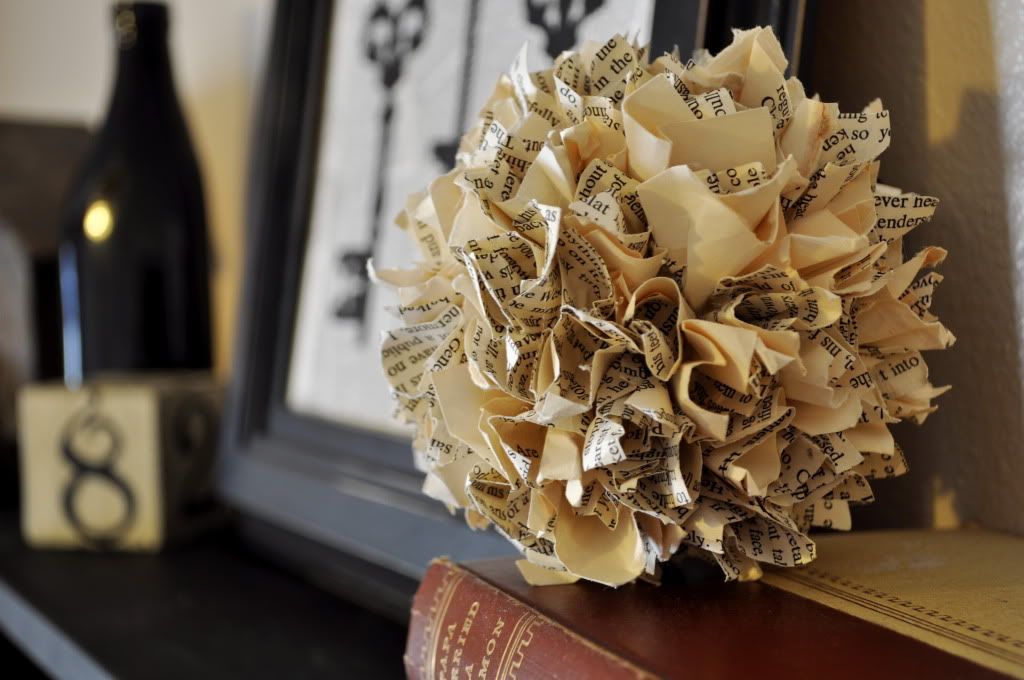 Guest Post: Around the World Food
Hi there! I'm Lauren from www.aroundtheworldfood.com and I get the honor of guest blogging today. Since my blog is typically geared toward food and culture (and sometimes DIY crafts that are loosely related to travel), I get the opportunity to share a more crafty project on Julie's blog – how to make vintage book paper balls. Now that I think about it, you could make these paper balls out of old maps too!
DIY Vintage Book Paper Balls
Supplies:
A vintage book you aren't scared to cut up (I scored mine for 50 cents at a thrift store. Side note: No matter how cheap the book is, there's something that feels slightly sacrilegious about cutting up a book. Try not to think about it!)
Styrofoam craft balls
Hot glue gun and glue sticks
Pencil
Scissors
Ruler
Directions:
1. Outline a square on the book paper. The size of the square will depend on how big you want the final vintage book paper balls to be. I made my squares 4″x4″. Don't worry about cutting each square out individually. I would trace a square on the top page and cut as thick into the book as I could to save time.
2. Fold one of the square pieces around the eraser of a pencil and scrunch the paper up as tightly as you can.
3. Add hot glue to the bottom of the paper.
4. Immediately place the paper on the Styrofoam ball and hold until the hot glue has cooled and the paper is held in place. This usually took about 30 seconds to 1 minute.
5. Keep repeating until the entire ball is covered. You may have to go back and fill in any bare areas until it looks as full as you want.
I made three different sizes of vintage paper balls by using different sized Styrofoam balls and different sized paper squares. I keep mine on my DIY barn beam ledge next to some vintage looking books.
Here's how my whole barn beam ledge looks with all of my accessories! Take a look at my vintage postage stamp monogram tutorial.
Lauren is a twenties-something Kansas Citian and blogger at www.aroundtheworldfood.com. Her hobbies include traveling all over the world (whenever possible), fixing up her 60 year old house, scuba diving, aspiring to be on The Amazing Race, and eating yummy Chinese food while watching a good movie.